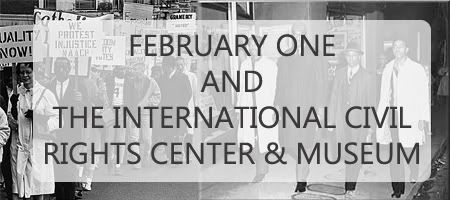 On February 1st, 1960, four freshman students from
NORTH CAROLINA AGRICULTURAL & TECHNICAL STATE UNIVERSITY
started what would be the most successful non-violent protest. These four students started what would be referred to as the Sit-In Movement by sitting at the segregated counters of F.W. Woolworth building and refusing to move until they were served. This is the story in it's simplest form... I encourage you to do individual research to learn more about this great story.
Fifty years to the date, the International Civil Rights Center & Museum (ICRCM) will have it's grand opening on February 1st, 2010 in the exact same building.
It has been a long struggle to get the museum up and running. Everything from potential demolish, infrastructure problems, and hefty funding issues have plagued the progress of this museum. However, just as the members of the Civil Rights Movement, the museum has overcome. The ICRCM has developed into a 43,000 square foot facility featuring the original stools where The Four sat, 14 signature exhibits, a state of the art auditorium and much more (see here).
The grand opening of this museum will be the most profound moment in American history since the inauguration of President Barack Obama, featuring an unprecedented 5-day long celebration leading up to February One which will be covered by international media outlets.
The following is a brief overview of the events that The International Civil Rights Museum, North Carolina Agricultural and Technical State University, Guildford County Schools, The City of Greensboro, and Bennett College have partnered together to execute. For more information you can visit NCA&T's or ICRCM's websites.
January 28, 2010

6pm: NCA&T Alumni Events Center


21st Century Activism & Protests: The State of the Civil Rights Movement
Confirmed featured Panelists Include:
Rev. Jesse Jackson (President, Rainbow Push)
Rev. Al Sharpotn (President, National Action Network)
Dr. Benjamin Chavis (President and CEO, Hip Hop Action Network)
Dr. Julianne Malveaux (President, Bennett College)
Warren Ballentine, Political Activist and Radio Talk Show Host
Stephen A Smith, Media Personality
**various collegiate leaders
January 29, 2010

7pm: Harrison Auditorium (NCA&TSU)
January 30, 2010

7pm: The Joseph F. Koury Convention Center (Guilford Ballroom)
Award Recipient Julian Bond (Chairman of the National NAACP)

Award Recipient Tom Joyner
**Extensive list of former award recipients for induction ceremony including Dr. Maya Angelou, Cicely Tyson, Harry Belafonte, and many more renowned leaders.
***FYI: Downtown Greensboro shuts down Sunday night and will not reopen until the Commemorative march is completed Monday Afternoon, plan accordingly.
January 31, 2010

6pm: A Celebration of Unity Ecumenical Service
Greensboro Coliseum

With performances by Award-winning gospel singer Yolanda Adams and a mass collegiate/community choir.
Also messages from nationally renowned ministers (Jamal Bryant, Fred Goodman, Al Sharpton, Jesse Jackson, and more)
February 1, 2010

5:30am: Sit-In Anniversary Breakfast
Empire Ballroom and Regency Room
8:00am: Ribbon Cutting Ceremony
The International Civil Rights Center & Museum
12:00pm: Commemorative March
Assembly at A&T Four Statue
**more information about the march COMING SOON