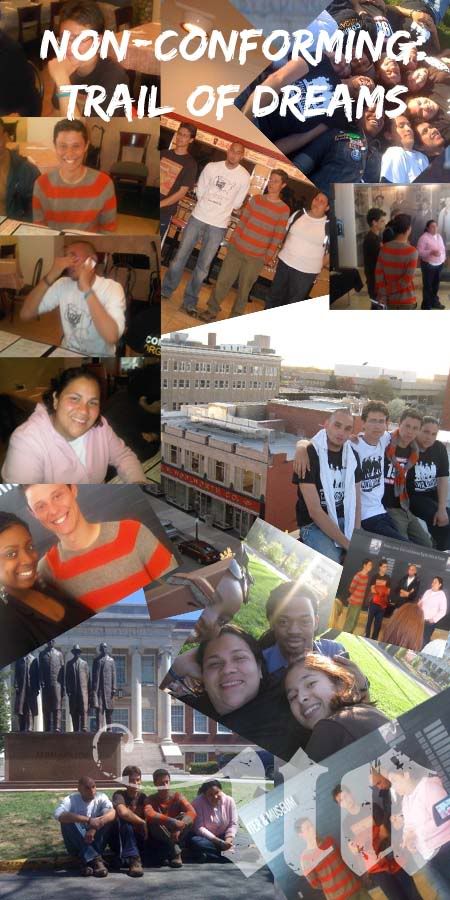 "

Thank you

to all who have dared to believe in what many call our "insanity". –

Trail of Dreams



Let's talk about dreams. Some people dream about hitting the lottery, some want to make it big in the entertainment industry, and others just want to live a normal life, a life of equality. We all know it takes action for our dreams to become a reality.
Four students from Florida,

Felipe Matos

,

Gaby Pacheco

,

Carlos Roa

, and

Juan Rodriguez

have made it their mission to walk

from Florida to Washington, D.C.

to fend for the right of U.S. Citizenship. The walk is named the "Trail of Dreams". All four have had the opportunity to attend college, gain exceptional insight to what motivates them but will never have the chance to share that because of their not being a U.S. Citizen. ( http://www.trail2010.org/about/) .
I had the opportunity to spend a whole day with them when they came to Greensboro. They went on a tour of the International Civil Rights Center & Museum and were moved by how much the struggles of the civil rights movement paralleled their struggle. As an added bonus, I took them to the campus of North Carolina Agricultural & Technical State University to show them the statue and bullet holes in the wall.
These students are making moves! They are gaining a buzz amongst the media and making their presence known. Who knows, you may spot them and want to join the movement! Check out the route of the trail here

(http://www.trail2010.org/route/)